Description
Food storage can often seem intimidating. Knowing what to get, how to make meals with what you have, and how to make sure you've planned accordingly in case of an emergency can feel daunting. Augason Farms makes emergency preparedness simple with its 45-Day Super Vault Emergency Food Supply.
Figuring Out Your Emergency Needs
When buying any emergency food kit always consider the length of time the kit will feed the number of people being served and most importantly, the average number of calories the kit provides each person in a day. Be wise—the number of servings is important, but not all servings are the same size. Be ready—calories will sustain you and your family, not the number of servings. Augason Farms makes emergency preparedness simple.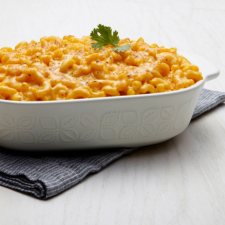 Wide Selection of Appetizing Meals
The Super Vault does all the planning work for you. Not only does this sturdy tote come with 50 pre-packaged meals and 13 varieties of food (like cheesy broccoli rice or macaroni and cheese), but it has a 45-day meal planner, making figuring out daily calorie consumption during an emergency a breeze. With a 25-year shelf life and a triple layer of protection in its packaging, the 45-Day Super Vault is a purchase that will serve you for years to come.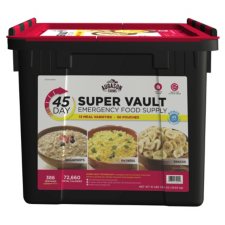 Augason Farms Means Quality
Family owned and operated for over 40 years, Augason Farms has refined recipes and sourced the finest ingredients to create the highest-quality, long-term freeze-dried meal solutions in the business. While most emergency food companies contract their production and packaging to outside manufacturers, they produce and package all of their food items from beginning to end.
Specifications
Augason Farms 45-Day Super Food Vault (1 person)
386 total servings
72,660 total calories
1 person
45 days
Average 1,615 calories per day
How to compare emergency kits for your family and budget:
Easily compare cost per serving: divide selling price by total number of servings.
Easily compare cost per calorie: divide selling price by total number of calories.
The Augason Farms 45-day Super Food Vault contains:
Breakfasts and Snacks

(8) Maple Brown Sugar Oatmeal (10 servings each)
(2) Strawberry Creamy Wheat (8 servings each)
(2) Banana Chips (8 servings each)

Entrées and Sides

(6) Creamy Chicken Rice (8 servings each)
(6) Hearty Vegetable Chicken Soup (8 servings each)
(6) Creamy Potato Soup (8 servings each)
(4) Elbow Macaroni (7.5 servings each)
(2) Cheese Powder (15 servings each)
(4) Cheesy Broccoli Rice (8 servings each)
(2) Spanish Rice (8 servings each)
(2) White Rice (10 servings each)
(2) Fettuccine Alfredo (4 servings each)
(2) Chicken Noodle Soup (4 servings each)
(2) Instant Potatoes (8 servings each)

Total quantity: 50 pouches
12-gallon industrial tote with hinged lid
Vault weight: Approx. 45 lbs
Vault size: 12.5" x 15.5" x 21.5"
Shelf life: Up to 25 years*
Food usage – 72,660 total calories
1 person – 45 days – 1,615 avg cals per day
2 person – 30 days – 1,211 avg cals per day
4 person – 14 days – 1297 avg cals per day
Packaging
(1) 12-gallon sized tote
(2) Mylar bags inside the Super Food Vault
Each Mylar bag contains 25 food pouches
Super Vault Technology
The Augason Farms Super Vault is designed with an innovative triple-layer barrier to provide the ultimate long-term food storage solution. Individual food pouches (25 pouches per bag) are placed in large, heavy-duty mylar bags for an additional layer of protection against elements such as light, oxygen and moisture. This extra barrier—placed within the industrial tote—controls the environment around the food pouches, extending their shelf life up to 25 years.*
*Product good up to 25 years when individual food pouches remain sealed within large mylar bags. Once unsealed, food pouches good up to 20 years unopened. Large mylar bags are not re-sealable. Best when stored in a cool, dry, dark place at temperatures between 55°F and 70°F. Actual shelf life may vary based on individual storage conditions. Please remove and discard oxygen absorber after opening.